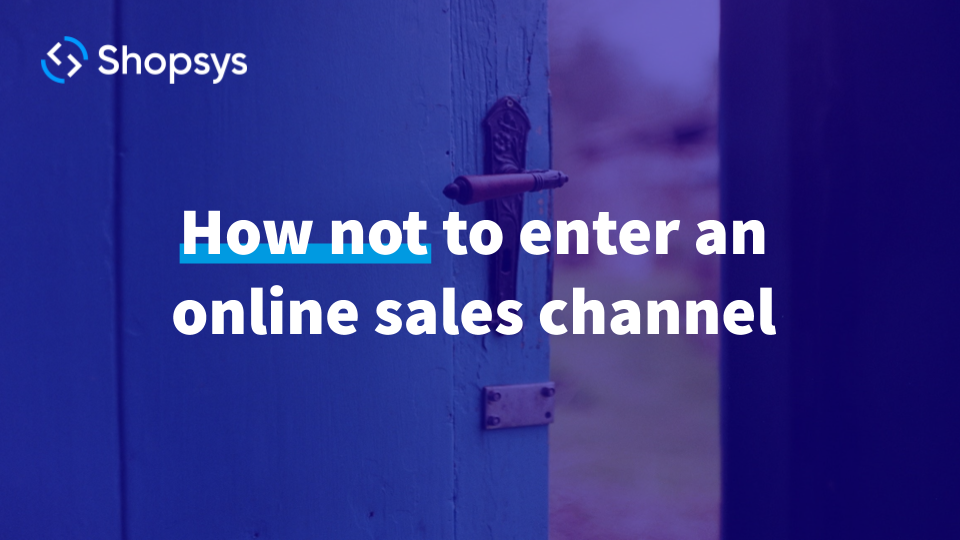 Over 3 months ago (before the COVID-19 broke out in Europe), we presented some forecasts on the expected growth of the online sales channel in the coming years. The expected market growth at that time was somewhere at 15%. However, the reality of recent weeks has exceeded expectations and the growth of online channels more than doubled. Moreover, large online stores increased their revenue by 73%, retailers have gone up by 139% and retailers with closed physical stores have seen a 158% jump.
A shift toward online
Optimistic forecasts have presumed that ecommerce would account for at least 20% of total retail shares, and that this would be exceeded sometime in 2024 or 2025. However, with current trends the way they are, the 20% mark might be reached by next year. This means that a majority of businesses are now moving online.
Even those who had planned to move to online in the long-term plans have been racing to adopt strategies that will speed things up, primarily as a way to gain a competitive edge (in particular during the pandemic, which saw an economic downturn for many companies).
The question is how to get into such a saturated market as Czech ecommerce (40k online stores). The answer comes down to brand loyalty and customers' trust in proven and established brands. Therefore, there is certainly room in the online channel for new retailers, but they must take into account the need for a fundamental investment and also the need to transfer their competitive advantage into the online environment.
How large retailers typically entered ecommerce
Before COVID-19, large retail players adopted strategies that involved lots of analysis before launching a product, along with a focus on products that would be stable and marketing geared towns long-term success.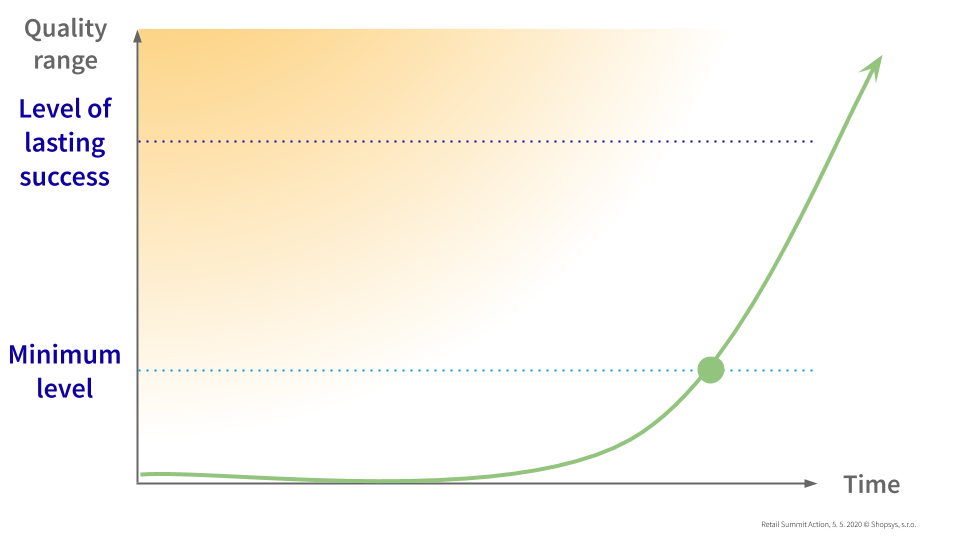 Entering ecommerce during COVID-19
At the time of the coronavirus pandemic, there was no time for long reflection and analysis. This means that the brick-and-mortar stores had to overtake regular online store development (see red arrow on the chart), which includes long-term planning, strategic decision-making, etc. However, we can't assume that the curve will grow continuously and reach long-term competitive levels in a linear manner. The point is that the roll-out of this "quick fix" often involves a different approach, where employees are forced to make decisions, compromises, and concessions in order to maintain efficiency, problem solve obstacles, and still bring in profits.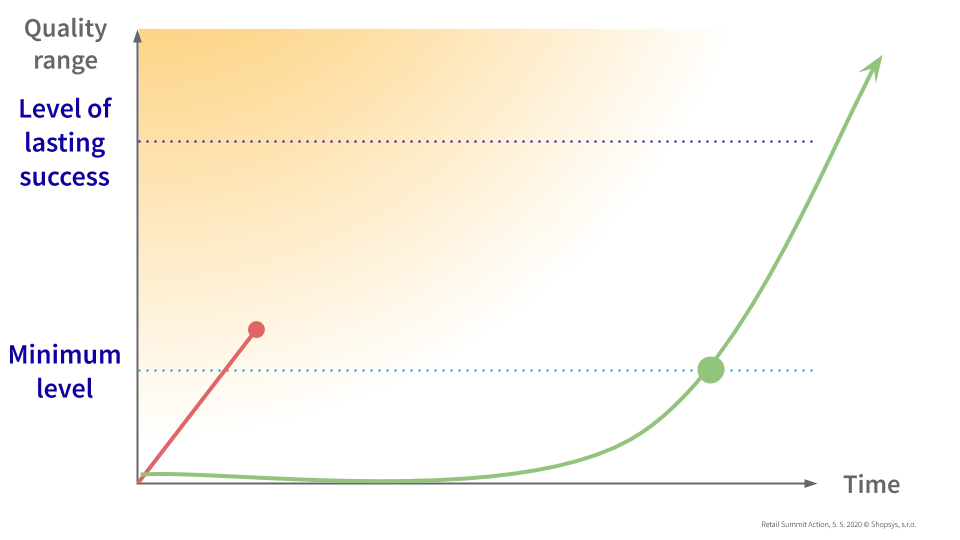 Watch out for the dead-end
And this is where the dead-end often arises. A quickly selected solution probably means that the company has to adapt to it, but it should be the other way around. The solution should be tailored to the needs of the company so that you can transfer your competitive advantages to the online environment which will allow for success in the long run.
One way companies have handled this is to understand that their "hot-fix" solution is a stop-gap measure, designed to get the company through a tough period while they work on a more comprehensive solution. However, companies who opt for these quick and easy 'band-aids' run the risk of hurting their prospects in the future.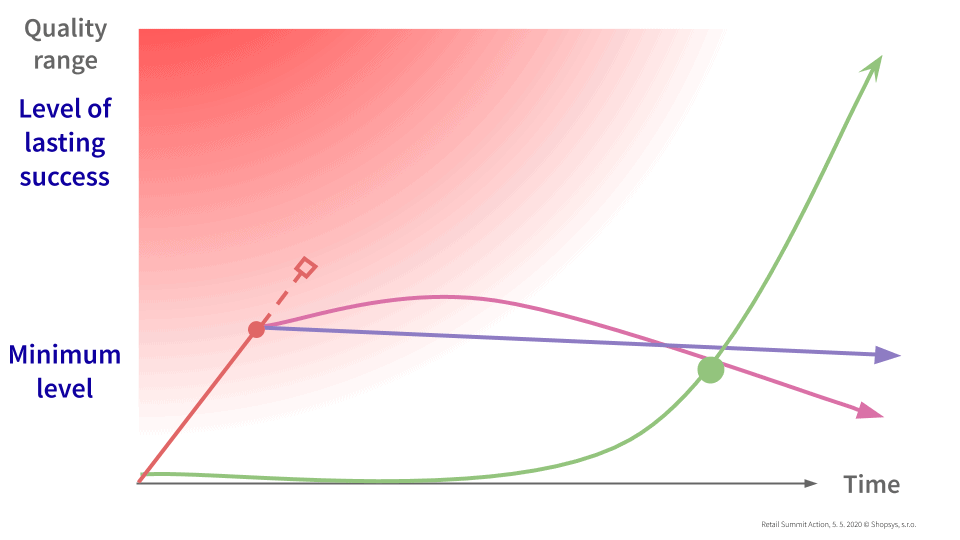 How best to avoid the blind alley?
We've known from the beginning that many retail players lack digital competence which is why we work with clients to come up with solutions that have been thought through, from beginning to end, and that integrate the best qualities of a company so that they can be as successful online as they were offline.
Starting to sell online can be very easy. But for large companies and their accompanying processes, such digital transformation is more difficult and it's important to rely on the best-suited technology.
In the graph below, the blue curve illustrates the ideal evolution of a company, where the development of new features, increased functionality, and economic goals continue upwards.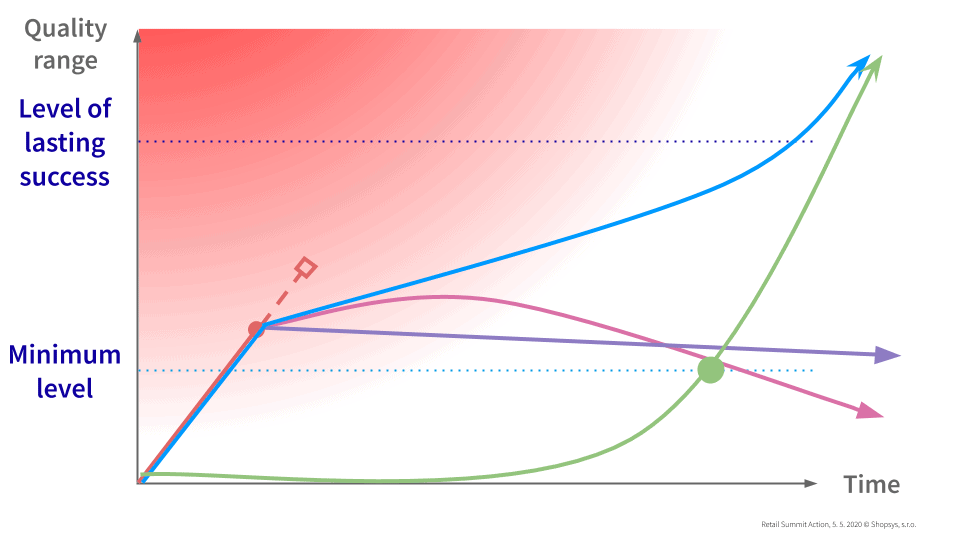 Technology is what keeps you going and helps you grow and succeed. So remember to choose solutions that are sustainable, scalable in the long run, and that have reliable tech partners who stand behind them.
Excellent mindset as a bonus
If you follow very successful omnichannel companies, you can see that during COVID-19 they came up with new functions, opened new markets and launched new products. And it is this excellent mindset that can constantly help you increase your curve of success and long-term competitiveness, as well as ensuring that your customers are looked after.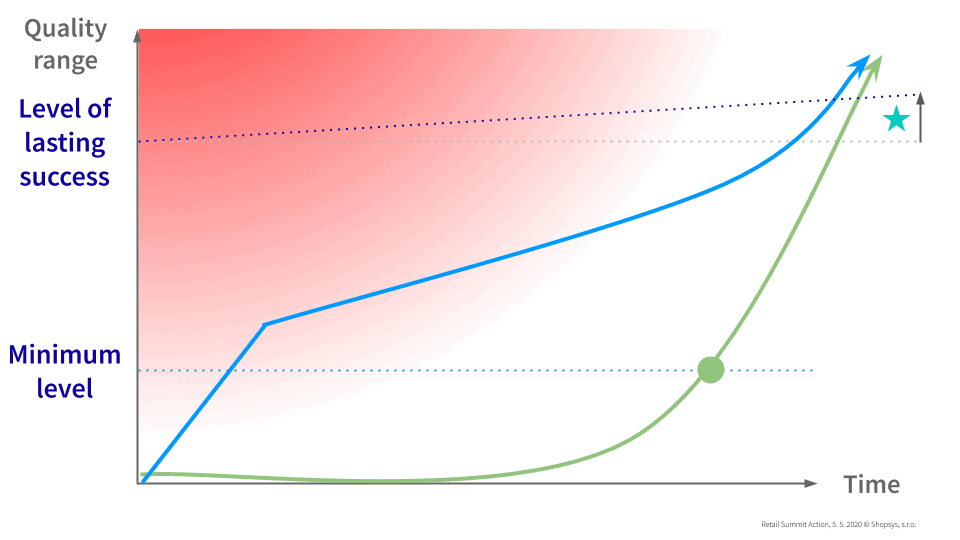 The above article was based on a presentation given by our CEO Lukáš Havlásek during the Retail Action Summit.
Čtěte také