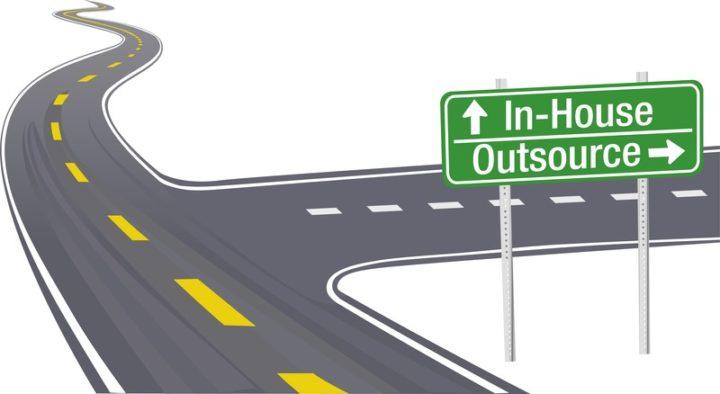 Making a decision about whether to entrust the creation and servicing of your new ecommerce platform to an outside party or to develop it in-house can be a difficult task. Both forms have advantages and disadvantages which we will introduce below.
Outsourcing
Hiring a software house to create, maintain, and help you expand with new functionalities can be a good solution if your team's core is marketing, sales, and logistics specialists and you simultaneously lack employees with the technical know-how or knowledge to run a project well. Outsourcing will work best to a certain point in the development of an online store — we suggest this approach for online stores that are already in the small and medium stages.
Implementation or replatforming is a complicated and tedious process, and it is not enough to simply know about your own business to conduct it properly. On the other hand, without the involvement of two parties — the customer and the software agency, and perfect communication between them — it's hard to make a good custom system. A reputable software house, or one that has successfully implemented similar projects to yours, can help steer your business in the right direction. First of all, outsourcing allows you to reduce costs. You do not have to keep expensive developers positions or pay for finding them. You can also control the development of the online store at any time by outsourcing works and paying only for the work done. Together with the right software house as a partner in development, you get instant access to the highest class specialists who know the technology best.
This solution, of course, also has several disadvantages. In a way, both literally and psychologically, you may lose full control over the project. Often, a lack of information security and confidentiality ends up being the price. Practically, the company has access to all your data regarding customers and number of sales. Another argument against this is bad communication due to the fact that the partner may not understand the rules of your business, the programmers come from a different culture, use a different language, reside in a different time zone, etc.
Tip
If you decide to outsource development, remember to specify the details and scope of work within the contract with the software house. Determine the project methodology (eg. we've had a lot of success with agile an methodology), designate people to coordinate activities on either side (project managers), etc. It's good to use a project management system to run the project and force the software house to present the work schedule.
In-house Development
This is how most of the large ecommerce stores in the world operate. However, this is not just a solution exclusive to the biggest companies. If your company is technically competent, then in-house development can be a feasible option.
With that in mind, let's consider the benefits of software development within the company. First of all, business owners have full control over the development of the store from each of the parties: technical, logistic, marketing. Keeping everything in one place improves communication between company employees and departments. Making changes that are better suited to customer needs or introducing innovations ends up being much faster. Technology development can give a competitive edge to an online store and increase their overall profits and efficiency.
Does this solution have any cons? Unfortunately, it can be very expensive, both in terms of paying the developers and in contribution to HR recruitment. It also means completely new duties will be given to some employees and shifting the responsibility of a running the business to a small team of people at the beginning.
Tip
Choosing an ecommerce platform with a headless structure will open to you the possibility of adopting state-of-art technology and getting essential experience with the processes and maintenance of such systems. The availability of already existing modules and plugins will increase efficiency in development, and unlike platforms with adopt monolithic structures allows a medium-sized store to avoid technical debt.
The excerpt above comes from an ebook — "Key Factors To Consider When Choosing a New Ecommerce Platform". Visit our website where you can download it completely for free.
Čtěte také