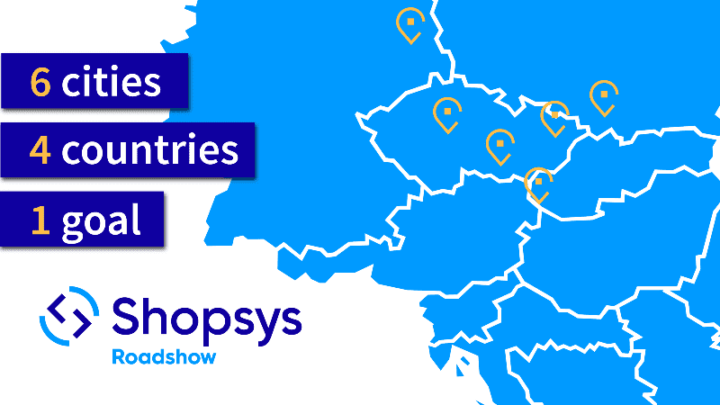 Six cities, four countries, one purpose — to share our know-how on creating large ecommerce solutions. Our best developers, project managers, and agile development experts are coming to you to give you their best tips and tricks and show you how it's all done at Shopsys. Furthermore, we will also introduce our platform, Shopsys Framework.
"Over the course of 15 years, we've learned how to create and further develop leading B2B and B2C projects. We're giving away a part of our know-how through the Shopsys Framework, our scalable open-source ecommerce platform that we released on September 18. But we want to go even further and walk you through it in person — that's why we're hitting the road." — Petr Svoboda, founder and CEO of Shopsys.
"The afternoon meetings will revolve around lectures on modern technologies with a focus on ecommerce developers. Architecture, containerization, orchestration, code quality, and automatized deployment are just some of the topics that we want to cover and discuss. Parallel to that, there will be discussions for project managers and development team leaders. Shopsys Roadshow will give you the opportunity to get to know the Shopsys Framework better, as well as how it actually helps large online stores," — Lukáš Heinz, CTO of Shopsys.
"We regularly organize conferences such as ShopCamp, Barcamp Ostrava, and PHPlive with the goal of pushing the Czech online community forward. In 2016 we started publishing EXEC, a magazine targeting managers throughout the world of ecommerce. Shopsys Roadshow is our next step towards educating the community and sharing our experience with developing online stores." — Lukáš Havlásek, CEO of Shopsys.
The roadshow will kick off on October 4 in Ostrava where our head office is located. After stopping in Prague and Brno, Shopsys Roadshow will cross borders and we'll pay a visit to Bratislava, Cracow, and Berlin. We perceive Poland and Germany as key markets for our first steps towards expanding abroad with the Shopsys Framework.
The event is primarily for in-house development teams of online stores. If you're just deciding which route to take when developing or changing your ecommerce platform, come to our roadshow for advice.
You can sign up on our Roadshow website where you will find all the details.
Čtěte také