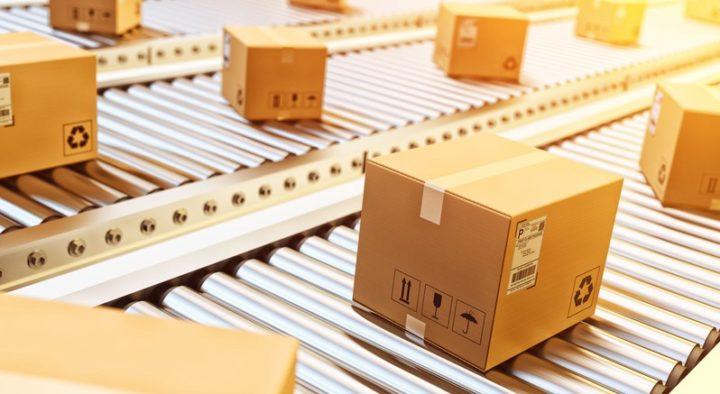 Over the span of 15 years of managing a company that specialize in building custom online stores, I had opportunity to observe both the successes and failures of different e-commerce projects, especially from the CEE region. I've conducted interviews with hundreds of online store owners and managers, and after hearing so many stories, I started to notice many similarities, especially in the way managers handle similar kinds of problems and challenges in different stages of growth of their projects. In particular, I want to use this article to point out the most crucial stage which is not as well known, and yet can determine whether a company experiences bankruptcy or success. This stage is one of the riskiest, but also presents one of the best opportunities for expanding.
So let's take a look at the stages of e-commerce growth. We will focus on the first three stages: small online stores with yearly sales up to 2 million euro (with tens of orders per day), medium sized up to 8 million (in the lower hundreds), and medium-large up to 20 million (with under a thousand orders per day).
What Is Typical for Small Online Stores?
In the beginning it's like learning to walk: taking those first few steps, observing, and the feeling of excitement as the company starts to grow. It is usually a period of euphoria, and the team may only consist of the original founders and perhaps some part-time employees later on. The founders have a vision of what they want to accomplish and manage every event and task. These online stores usually have off-the-shelf accounting software and mostly rented software-as-a-service for their e-commerce platform. There is no automation, and if it does exist is in the form of e-mailing or PPC.
When Number Of Orders Grow
Over time and step by step, a company will begin to transform into a medium sized organization as their numbers of orders grow. Companies will hire new employees — mostly marketing specialists, product managers and warehousemen. Often it is the case that businesses move to larger offices and warehouses. This addition of new people prompts the company to set up crucial processes (purchasing, expedition).
Typically the first significant investments in technology are made at this stage and include tailor made e-commerce platforms and advanced accounting software or smaller ERP systems. Manual writing of orders and manual synchronization of prices and stocks becomes extremely difficult, which is why the first significant automation efforts occur. Automatic data synchronization now helps saves time and prevent mistakes — and for business owners, provides a sense of relief. Yet there are still "child diseases" present — for example, unavailable products are sold, the price may be under the purchase price, orders are sent to the wrong address, the stock is inaccurate, or there are failures in synchronization between the e-commerce platform and ERP. These problems appear mainly in peak times and in turn can cause additional losses and stress.
Reaching Medium-Large Stage
Everyone who made it to this stage is a hero because they've proven they are somehow better or more capable than 98% of B2C online stores. Everything is completely different now. The company is playing a more competitive game. It has a strong brand and loyal customers, many more employees and seasonal workers, and the founders are now acting as managers. Their job is to make long-term plans and focus on strategy, as well as attending conferences and keeping an eye on trends.
The influx of employees forces the company to rethink the way in which it defines complex processes. Managers strive for maximum automation. They are often thinking "it would be great if this was automatically transferred there; that was automatically sent; that was self-set, etc." Nevertheless, they run into the limitations of their accounting software or ERP system more and more often. Because these systems are usually based on accounting standards and generate operations and documents for every action there can be lags and downtimes. And when the system crashes, it can be a nightmare. It is the same with e-commerce platform failures. While 4-hours of downtime may have caused a loss in revenue of of 1 to 2 thousand euro in the past, it can easily be ten times that now — 10 thousand and even 20 thousand euro in a peak season. The stress on the company, and among employees, can become a daily struggle when each new failure ends up costing a lot. And the failure may not necessarily be the result of human error or the system: it can be something unpredictable because of the sheer complexity of a business.
Here, I would like to share a story from MALL.cz regarding their medium-large stage. The product manager came out with an idea for a special offer: you buy an iron, and you get an ironing board for free. And it worked! The number of orders increased rapidly. And then the trouble started. The expedition process took five times longer because of the need for manual manipulation. It froze the expedition process for all orders for many hours, and the prices of orders started to exceed the free shipping level. However, the shipping costs were multiplied because of ironing board dimensions. The whole marketing campaign ended in a huge loss.
Technical Transformation
Basically, all online stores invest into their business at any stage of growth. The chart below depicts the relationship between investments in technology (the Y-axis) and the size of e-business by total online sales (X-axis). The first wave expresses the first investment into out-of-the shell accounting software and e-commerce template system. The second wave shows the investments in smaller ERP and tailor-made e-commerce platform and their data-bridge. The ping zone is the stage where the most activity is happening. This is the pivotal moment when most online stores either stagnate or die. The vast majority of big e-shops define this stage as the most important period in their history.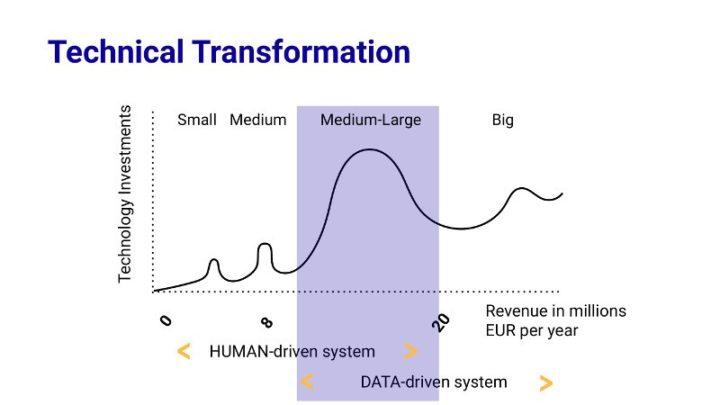 Why Do The Medium-Large Online Stores Have It So Hard?
They are large but not large enough for economies of scale, or for the pressure on suppliers. The PR is difficult and expensive because they are not leaders in the industry yet. The company is not large enough to have a data analytic department, meaning the only data analyst doubles as the marketing specialist.
In this stage, you have to make decisions about things you have never encountered before, yet they have a huge impact on future viability. At this point, simply adding new employees won't help you solve the main problems. It is time to scale the system. Right here, the company needs to transform from a human-driven system to a data-driven system. They have to implement massive automation of their e-commerce platform, automation of ERP, and automation of logistics. This means devoting significant investment into automation technologies. Sometimes the necessity of investments come at the time when the profit is not high enough to cover them. This is why the founders tend to be open to the acquisitions of their companies by stronger players.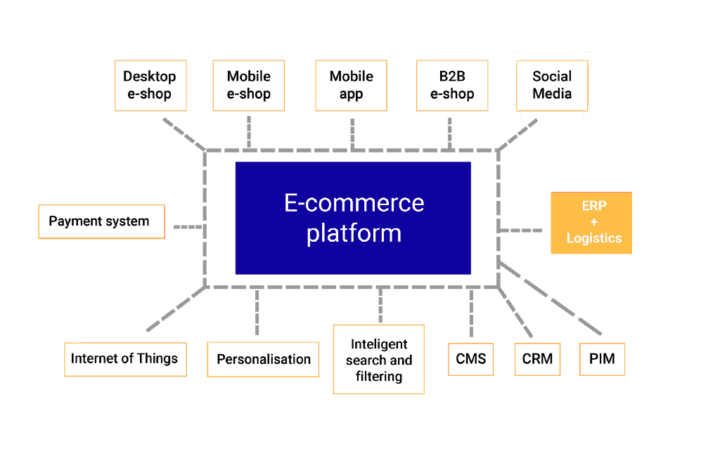 Paradoxically, as an owner of an ecommerce software house I have to admit that companies of the medium-large variety need to own technologies and have fully allocated developers. Technology is a key factor when it comes the size of a company. But such technologies must also be reliable because any amount of downtime can have detrimental consequences. The company also must be independent of the software house so as to avoid vendor-lock. And lastly, a company needs quick and permanent customizations of all its system's parts. Having one's own allocated developers is crucial. Frankly, 80% of our company's revenue comes from agile contracts when we provide whole teams to our clients, and we even cooperate with their internal developers. This is also the reason why we have decided to make the Shopsys Framework open source, because companies cannot be dependent on us as the only development supplier.
That's why I've been saying for several years now that in order to become a successful ecommerce company, their owners must consider also becoming tech-companies with proprietorship of their technology and development resources.
Čtěte také