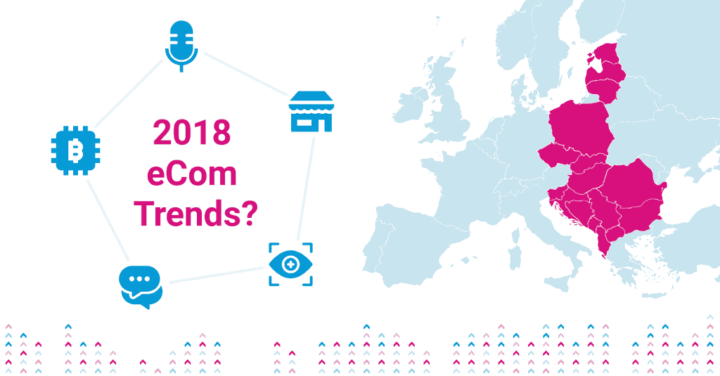 There has been a lot of hype both in the media and among e-commerce circles about the advantages and importance of investing in new and innovative technologies. And while some advances certainly warrant attention, many of these trends tend to be either too expensive, hard to implement, or simply lack the development or infrastructure to be considered feasible.
The beginning of the new year has been accompanied with a flood of articles with titles like "Trends in XYZ for 2018". It's no different in the field of e-commerce, however authors of these articles have a tendency to treat the subject globally or purely from an American point of view. What's more, they are largely inspired by the biggest players in the e-commerce global market. This over-hypes and exaggerates the picture of what to expect in the future, especially where e-commerce business on the local scale for medium and large e-commerce companies is concerned.
While many of these predictions may be valid, they fail to take into account the fact that such changes will likely take a lot longer to adapt in Central and Eastern Europe (CEE). This isn't the result of regional inferiority, per se, but rather the unique way in which these trends will be implemented. In this short article, I've looked at some trends mentioned in recent articles, and argue why are unlikely to be game-changing in terms of CEE eCommerce in 2018. For some of the topics I have also asked experts to share their opinion about it.
Voice shopping
Voice shopping, while a great idea, is best carried out with the help of software agents such as virtual assistants (Google Assistant or Amazon Alexa) or voice command devices and smart speakers (Google Home or Amazon Echo). Of course, that kind of combination can also work for mobile phones and smartwatches, but it is less popular.
One thing to keep in mind is that the technology behind most virtual assistants to day is extremely complex. This includes not only voice recognition, but also incorporates natural language processing (NLP), artificial intelligence and machine learning.
Now, imagine trying to cope with the many different languages that make up Central and Eastern Europe. The vast majority of these have their own specific inflections, making it even harder to customize technology which can work across languages. Even if the technology reaches a point where it can interpret a broad linguistic spectrum, it is unlikely voice shopping in the CEE would become popular without the help of companies like Amazon establishing more of a presence in these areas. Technology is currently only supported in these languages: English, German, Japanese (Alexa, Google Home) and French (Google Home).
Co-founder of Jovo (open-source development framework for cross platform voice applications), Jan König, shared his thoughts with us:
As the first company to establish smart speakers in households on a large scale, Amazon currently has the largest market share in English speaking countries like the US and UK, as well as in Germany. However, the company seems to have had struggles with quickly rolling out their voice assistant Alexa into other countries and languages beyond variations of English. Google, with their smart speaker Google Home and voice platform Google Assistant, seems to have an advantage there and is quickly winning ground with languages like French, Italian, Spanish, Portuguese, and more.
Still, it's unlikely that they will pursue many languages native to Central and Eastern Europe in 2018. Even though establishing themselves in new countries presents an opportunity for expansion, this often requires a significant investment. I do believe this will change as new breakthroughs in deep learning and artificial intelligence are made, which will in turn require less data to build language models. However, even though this shift may not occur in the next few months, I still think it's important to keep watch this sector in order to understand new emerging consumer behaviors.
Chatbots / AI chatbots
I'm not convinced chatbots are big game changers, either — and certainly not as a marketing tool which online stores in the CEE will begin to start using en masse. Driving traffic to online stores every year has become more and more expensive. As a result, it's unlikely owners of e-shops will risk the possibility of losing a sale (or worse a customer) because of the relative immaturity of chatbot technology.
Chatbots may gain popularity this year, but only in very specific industries, like online food ordering or other non-commercial websites. In the context of chatbots, labor costs should also be taken into account. Even though they have been on the rise globally, these numbers don't always reflect the complementing salaries of different countries. In the US, for instance, chatbots and other automation makes sense given the high waves. In contrast, the use of chatbots in the CEE simply doesn't make the same sort of sense from an economic point of view. Rather, I expect to see more focus on the dissemination and professionalization of services such as live support (live chats) in 2018.
Mario Rozensky, Customer Care Expert from Czech Republic, expresses a similar opinion:
I don't think there's a danger of chatbots becoming a trend for at least the next three years until they can become smarter than they are today. Chatbots, nowadays, basically only help you to fill in a form — they ask you questions, which you would just type in a field in a form. As soon as they become able to process natural language and solve complex questions, they become a very important part of the customer care.
However, there is already couple of companies who effectively work with chatbots — for example KLM airlines, which are able to deliver a flight ticket or inform about a delay through Messenger bot. Another example — Johnnie Walker — uses chatbots to educate its customers about whiskey and helps them to choose the right one. Such approaches deepen the customer's relationship with the brand.
Paying with Bitcoin
If you were hoping that 2018 was the year your online store would benefit from increased numbers of Bitcoin transactions, and are consider implementing that type of payment, then read this first.
In February 2017 the price of a single Bitcoin was almost $1,000, but had spiked to almost $20,000 in December 2017. Thanks to such a huge increase, Bitcoin has ceased to be a digital currency and has become something like a store of value (digital gold). Bitcoin transaction costs have also become simply too expensive and they take too long. It is worth underlining that despite all the media turmoil around the topic of cryptocurrencies, only around 0.3% of people have any in their possession (very optimistic indicator — 1 digital wallet address = 1 user).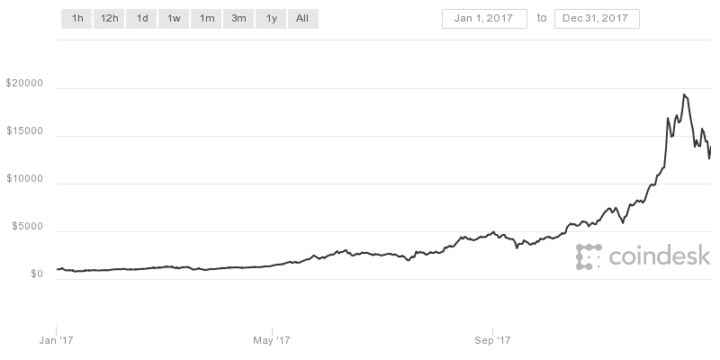 How Łukasz Kopeć, from the Polish portal Bithub.pl, sees it:
The present valuation of Bitcoin changed its function from payment to speculation and storage of value. At the moment of such increases, there are too many people willing to use Bitcoin who are attracted by the vision of fast enrichment, and not the real application of its capabilities. As a result, transaction fees — contrary to the original assumption — are expensive, and transfers can take several hours instead of minutes.
Developers, however, create appropriate solutions, and the community does not remain idle by creating other cryptocurrencies that respond to emerging problems and needs. Just as the Internet has changed the way we communicate, so too will cryptocurrencies change the way financial systems function.
Retail Apocalypse and Mall Die-Off
Maybe this is happening in the US, but I do not think that it would affect countries such as Poland and the Czech Republic. According to a research report published by Colliers International in November 2017, CEE retail sales are forecasted to expand at between 4.2%-7.6% per annum in the next decade.
The good status of retail in CEE region is supported by good macroeconomic indicators, and by growing consumerism of societies in the region. Of course, this will not last forever and e-commerce penetration will finally take over part of the retail market, but the latter will have time to transform their business in order to become a touchpoint in their customers' journey (according to the 2017 omnichannel trend).
And what do the retailers think? We asked Tomáš Lučan, Regional Marketing Manager at Active Retail Asset Management s.r.o., a company that has for example Forum Nova Karolina (one of the biggest malls in the Czech Republic with 244 shops on 58000m2) in their portfolio.
It is not surprising that shopping malls in the USA are declining, but in the CEE region the situation is quite different. The shopping centers built in USA are focused mainly on shopping itself, whilst the developers and property owners in our region (who learned lessons from mistakes done in USA), created the shopping centers not only as a place for shopping, but also for entertainment, spending free time, having rich variety of restaurant, cafés and other services.
Furthermore, in the USA there is approx. 2 square meters of retail per head, while in the Czech Republic it is only about 0,25 m²/head. Although we do not have the exact numbers yet, we are absolutely sure that 2017 was the most successful year in terms of number of visitors, revenue and the average order value.
Augmented Reality
The term augmented reality entered the public consciousness as a result of the very popular mobile game Pokemon Go. It is often presented as a trend for 2018 in e-commerce, but in my opinion will probably stay as nothing more than a nice sounding buzzword.
Throughout 2017 I never heard about any successful implementation of this technology into a CEE-based online store. IKEA Place debuted in Poland in the autumn of 2017, but the app is only for iOS users which are the minority in the CEE (20–30% of market share depending on the state). At the same time, Amazon introduced a new feature called AR View into their app, but the company has not yet established a full presence in the region.
The question, then, is what trends are likely to be game changers in the CEE region for 2018? This will probably require an article all its own, but let me just point out a few possibilities.
First, mobile apps are here to stay — if anything, I think we can look forward to 2018 heralding a lot of potential optimization for mobile users. Most CEE e-shops have responsive websites and record traffic from mobile devices and now is the time to rein in more transactions from this channel. At the end of the 2018 we can also expect to see the mobile-first index update from Google.
Secondly, there's a lot of movement toward customer personalization — well beyond simply suggesting 'recommended products'. For the last few years, large e-commerce companies were investing huge amounts of money into big data solutions and marketing automation. This year we can probably expect to see product recommendations based on individual buying habits.
And last but not least, reliance on evolving pre-existing technologies is only going to become more important for medium to large sized online stores in and around the CEE region (such as those covered in previous articles). This includes things like reducing technical debt and wasted man-hours, looking for innovative ways to integrate architecture, and following the shift in e-commerce toward more accessible open source platforms — all with the aim of allowing merchants to offer excellent prices and product ranges, while still being able to track their logistics and metrics in order to make sound business decisions.
In closing, these concrete factors — such as creating manageable software that is easy to understand — underscores a philosophical shift in the way we view customers. Focusing on customer journey and customer loyalty, and acknowledging the human interaction that takes place online, is a key component when it comes to restructuring e-commerce platforms as we know them.
Čtěte také