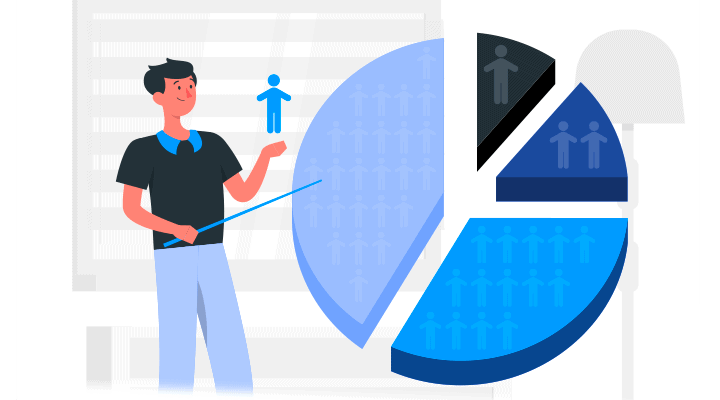 Omnichannel is a sales strategy that integrates multiple channels – from marketing to customer service – in order to enhance a customer's shopping experience. This new approach to business requires retailers to change the way their performance is measured, especially since omnichannel encompasses more than just hard sales data.
We already know from research and working with our clients that retailers who implemented the omnichannel strategy before the outbreak of the pandemic have benefited from this decision. At the time of the lockdown they could at least partially run their business and something that we took a closer look at in one of our previous articles. Omnichannel is a new reality for businesses that are shifting to an online presence, in particular those in the retail industry.
During or after the implementation of omnichannel sales, many managers will be faced with the challenge of measuring how their new sales approach works. This is especially important because omnichannel is like an ecosystem, and its health is determined by how efficiently it works as a whole. It is easy to imagine scenarios where a specific retailer runs a promotional campaign off-line in order to increase traffic in a physical store, and due to a variety of obstacles like poor customer service is not able to convert these visits into sales. Measuring versatile KPIs across many channels will help catch such anomalies and motivate retailers to make improvements.
Of course, this does not mean that you should stop monitoring on typical sales KPIs, such as total revenue, sales growth, sales per channel, or margins. However, to get a full picture of the omnichannel strategy, you also need to turn to more detailed and specific indicators, as well as qualitative data. For example, if we imagine a physical store that is just breaking even, but has a very high 'click & collect' ratio with revenue credited to an online channel, liquidation of the physical store may affect the whole system.
We asked several managers of online and retail companies from the CEE region how they had familiarized themselves with these interconnected channels and how they measured performance.

Michal Hanacek, COO of Pilulka.cz, signals the occurrence of a "halo effect" often mentioned in the context of omnichannel:
– We observe that if we have a physical store in a city, the number of users in the online database increases proportionally. Thus, the percentage of our customers in a given city is up to three times higher than in cities where we do not have branches. We also perceive the retail network as an integral part of our marketing mix. If a customer ever visits a branch, you build greater loyalty, and at the same time the branding of these branches also has the role of an exhibition area, the so-called year-round billboard.
In TESCOMA company, they monitor, for example, "how much of sales in physical stores is generated by eshop, how fast are such orders given to the customer in the store and the percentage of how many of the online orders which go to stores were actually completed" – Ecommerce Director, Radim Rozenek.
The biggest difficulty in measuring performance of omnichannel sales is getting precise data.
Tomas Vala, CEO of SIKO, agrees that the so-called ROPO effect is difficult to measure exactly, but notes it "can be relatively well estimated on the basis of planned or unplanned (like the current crisis) experiments". SIKO also focuses their omnichannel analysis on metrics like 'customer funnel conversion' depending on the initial sales channel and NPS (Net Promoter Score) as an "indicator of final customer satisfaction across all possible combinations of interactions".
Michal Mesko, CEO of Martinus.sk recommends that before you proceed to adding up or pulling out the average for all physical stores, it's worth taking a closer look at each of them separately. – We take each of our bookstores as a separate business unit, which should be profitable and purely independent, without taking into account any synergies from the eshop. Any synergies that this brings are then another benefit for the whole Martinus.
The biggest challenge already mentioned is identifying customers in the offline world. However, there are some "markers" that can help retailers identify those cross-channel transactions, such as: data from mobile applications (loyalty club, geolocalization), use of payment card or promotional code, etc. One should not be discouraged by fact that this data is often incomplete (the customer does not always pay by card, has an application or uses promotional codes, etc.) but it is still a great source of information about trends and whether some marketing activities are effective or not.
At the end it is worth adding that omnichannel may significantly increase company revenues, but the implementation of this strategy should not be motivated purely by this. The implementation of an omnichannel strategy does not guarantee that the customer will buy two pairs of shoes from you within a week, but the lack of convenient purchase can deter them from making an initial purchase in the first place.
Čtěte také