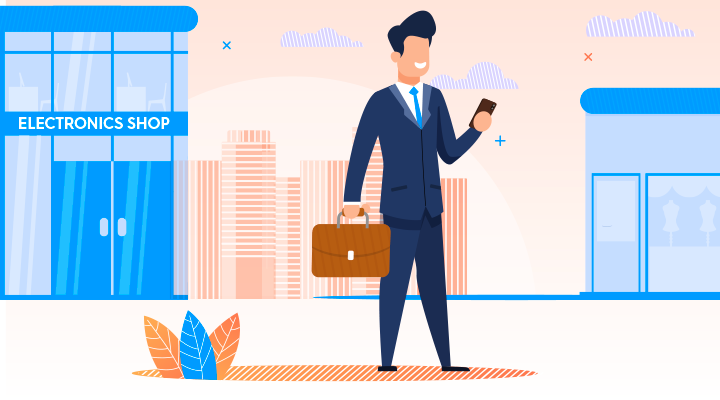 Retail companies that want to start selling online are facing not only the challenge of finding the right technology partner, but also hiring ecommerce managers who can help them set and manage online business processes. Unfortunately, there are not many specialists with the necessary competencies in the field of ecommerce and omnichannel sales that have experience in managing high volume commerce.
The ecommerce manager job position demands an interdisciplinary character as its activities and responsibilities cover many different fields, such as sales, marketing, customer service, IT and technology, and logistics. The implementation of the ecommerce solution applies to many processes in a given company (especially when designing the omnichannel sales) that need to be well coordinated.
Sales management
From a purely sales point of view, the person managing the ecommerce department is responsible for turnover and customers from the online channel. As an ecommerce manager, the selected individual is involved in trade spending and top-line sales and negotiating commercial terms with suppliers of goods. In addition, they are responsible for the portfolio of products offered online and category management.
Customer relationship managemenet
Unlike with smaller online stores, relationships with customers is another important area. The ecommerce manager is dedicated to ensuring customer satisfaction and loyalty. In practice, this can look like monitoring the satisfaction of online store users (e.g. by using NPS methodology), as well as understanding their needs and adapting offers and online business activities to customers' requirements. In large online businesses, such activities take the form of larger projects with clearly defined business goals.
Online marketing
These competencies are extremely important, especially in the field of online marketing. Depending on brand awareness (and thus direct traffic), search engines, PPC ads, price comparison websites, and social media ads are the primary source for the vast majority of visits generated on a store's website. The ecommerce manager looks after the generation of traffic to a store, which in turn influences conversion rates. This means they must understand the principles of such processes and dependencies, so as to be able to control the work of external agencies (SEO, SEM, social media) or subordinates.
Data analysis
Analytical skills are also very important. During the operation of the online store, with the implementation of various analytical and users' tracking systems, huge amounts of data are created (e.g. transactional) that can indicate user behaviours. The ecommerce manager is able to collect, interpret and implement changes in the sales strategy based on this raw data.
Web & IT Technologies
Online sales in large online stores are based on advanced web technologies and IT solutions. In the case of ready-made, out-of-the-box solutions, support is easier and does not require much technical knowledge. However, such solutions are usually a blind alley for bigger business and sooner or later this results in a custom implementation. That speaks to the importance of cooperation with an ecommerce agency in the case of outsourcing development or even building your own in-house team. In both of these cases, ecommerce managers need to be able to communicate with developers and should know the basics of IT and web technologies.
Logistics
What's more, the ecommerce manager must have knowledge of logistics. In the case of a large company, it usually already has its own logistics infrastructure, but most often it is not adapted to the needs of online sales. Such a basis for online activities is, for example, the integration of the WMS or ERP system with an online store. This ensures that the customer can be certain that the product they ordered is available and can automatically receive notifications about any changes in its status.
Marketing tools
There are still many side topics around online sales that ecommerce managers should be acquainted with, including skills and knowledge related to direct marketing (newsletter, texting, push notifications), payment gateways and cooperation with transport companies.
Soft competencies
Last but not least, the ecommerce manager, apart from the above-mentioned 'hard' competencies, must also demonstrate 'soft' competencies, i.e. interpersonal and communication skills. The person employed in this position will have to contact many managers from various departments and model the type of cooperation they want to see in their company. It should be remembered that any change (including going through a digital transformation) is likely to be met with resistance among employees, not out of ill will but because of the fear and uncertainty that comes with being pushed out of one's comfort zone. In particular, in retail there may be conflict or unhealthy competition between employees from online and offline sales as a result of insufficient understanding of the company's mission. Ecommerce managers with the support of top management should ensure that the new omnichannel vision of the company and its development is understood by the employees as an opportunity, not a threat.
To sum up, entrusting the role of the person responsible for sales in the online channel or full-scale digital transformation is a decision of considerable importance for a retail company. Good project management can enable a company to find its place in a post-pandemic reality, while mistakes and omissions at this stage can cost the company dearly. In this article we included some scenarios where an ecommerce manager might find themselves. Therefore, as a company that cares about educating those in the ecommerce field, we offer assistance to all retail companies. Are you currently recruiting for such a position? Consult it with us – we will help you choose the top candidate as we did for a few of large retail companies.
Čtěte také