Even before the pandemic, retail business owners were aware that online sales channels would soon become a necessity. The current crisis has only cemented this fact. The future of sales after the current crisis will be omnichannel, and selling solely through retail will be not enough. Today, the key question for retailers is how to approach launching an online channel in a fast and future-oriented way.
Our clients' data shows that online sales of retail players continue to increase (see graph below). For the first two weeks of March this year compared to previous year, retailers' online sales increased by an average of 52%. If we look at the almost whole month of March (again compared to the same period last year), the average turnover growth was 95%. Already we are observing a massive shift of customers to online channels.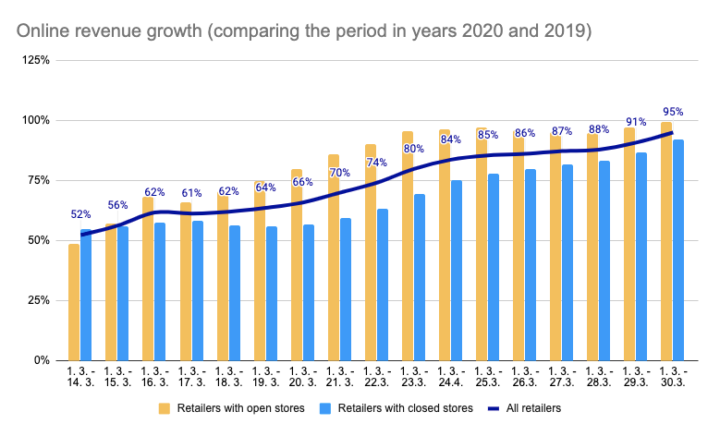 Investing in ecommerce is a priority
Although the current situation may at first glance seem a worst case scenario for the digital transformation of sales, there are a number of reasons to believe the opposite may be true.
Customers are online
A vast majority of customers are already savvy with online shopping. If you want to save your declining revenue, you need to follow your customers.

The return to physical stores will be slow
On March 14, 2020, the government closed retail outlets; on March 23, they extended the quarantine; and on March 26, this was tightened even further. We can anticipate the quarantine being prolonged even further as countries attempt to 'flatten the curve'. Although the government plans to gradually soften the restrictions and open physical stores in order to boost the economy, we can also expect a slow return of normal retail customers who will still be wary about brick-and-mortar stores.

Competition won't claim your customers
Retailers who already have an online presence are sure to attract new customers, but trusted sellers (from other market segments than necessities) will not disappear even in a crisis. If you give your customers the chance to buy online, they will do it.

Be creative with your employees
Employees that work in physical stores that are closed due to governments' restrictions can be shifted into an online environment. As customer representatives, they have considerable knowledge, skills, and an understanding of customer behaviours and needs. They can help with filling data into the online store or marketing, and any additional training would be minimal.
Time to run as a key indicator? Yes and no
When we develop custom ecommerce solutions for companies with hundreds of millions of turnover, it is usually a half year to a year long process. It involves thousands of hours of work both here at Shopsys and on the side of our customers, not to mention millions of Czech crowns in investments. But the output is a perfect ecommerce solution, fully tailored to the customer's target group and fully integrated into other business processes across all channels.
In the previous section, however, we suggested time is money, and the sooner a retailer gets online, the better. Thus, the standard 12-month path is not appropriate.
As a solution many ecommerce software companies now offer ready-made, SaaS solutions that can be run almost on a one click. This is suitable for small businesses and sole traders. Fruitisimo also used it to launch its solution "over the weekend", and Rohlík also brought an interesting initiative. But can a larger retailer go this way?
Here are a few reasons why we don't recommend this approach for larger retailers:
Connection to internal information systems
In the short term it is possible to work with an eshop without connection to other systems (information, accounting, warehouse, etc.), but for a longer period it is unsustainable for medium and large retailers.

Readiness for further growth
In addition to managing high traffic, it is essential that the ecommerce solution for large retailers can be modified freely and without restrictions, maintained without technical debt, and promoted.

Unlimited scalability and editability
In the future, you need to be able to extend the platform in any number of ways with your own features and be able to plug it into your omnichannel mix.

It starts with the platform
Online sales is often a new thing for retailers. In addition to being provided with the software, they need support and know-how related to online sales – marketing, user research, optimization of conversion rates, etc. Although it can be solved by freelancers, it is easier to have one partner for everything.
SaaS solutions are a great choice for small players and can be launched extremely quickly. However, a retailer with a turnover of more than 100 million needs a tailored solution.
The perfect full-featured, tailored solution takes time
On the one hand, retailers want to start selling online as soon as possible. On the other hand, in the medium term, they cannot afford a half-way solution that will not be integrated into their internal systems and will not respect their specificities.
For over 17 years we've worked with hundreds of clients to deliver a solution that combines both conflicting requirements – the Shopsys Commerce Cloud, built on the Shopsys Framework. The Shopsys Commerce Cloud will allow larger players to have a functional ecommerce platform up and running in a matter of days with further customizations based on all the benefits of the Shopsys Framework, including: modern software architecture, technology stack, built-in scalability and easy maintenance.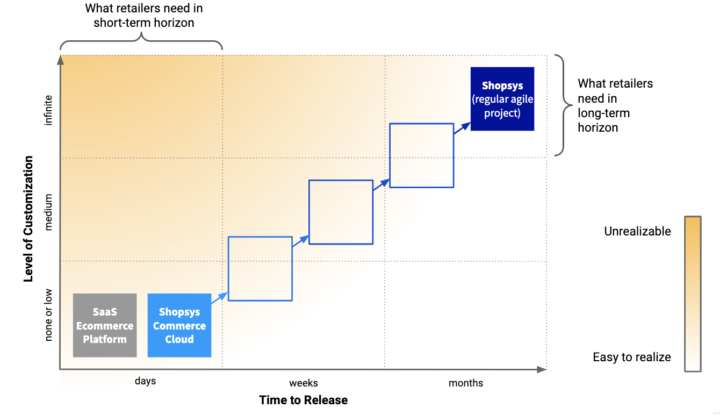 With Shopsys Commerce Cloud, you will be launching an ecommerce solution in a few days, transforming it over the next few months into a full-featured ecommerce solution for the large ecommerce players.

Are you interested in our solutions? Contact us.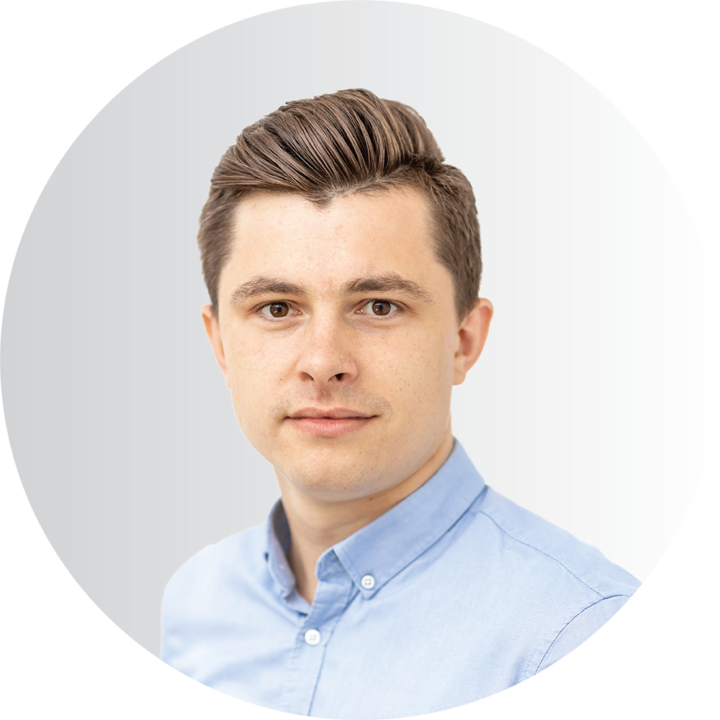 Matěj Kapošváry
Sales and Marketing Director, Shopsys
LinkedIn | Twitter
Čtěte také